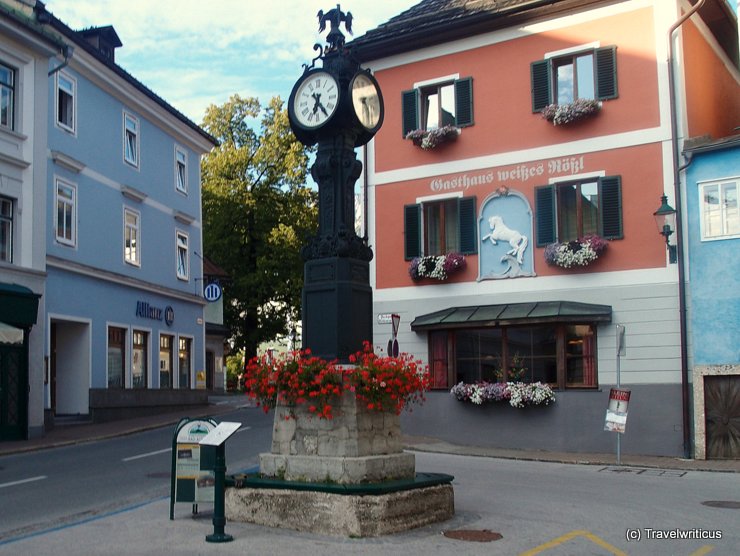 The Lössl-Uhr (Lössl Clock) is a technical gem in Bad Aussee. The public clock designed by Friedrich von Lössl used to work with the power of changes in atmospheric pressure and temperature.
Friedrich von Lössl
Friedrich von Lössl was born in Bavaria but constantly moved with his projects. As a surveyor and railway pioneer, he routed the Salzkammergut railway line between Stainach-Irdning (Styria) and Schärding (Upper Austria). Bad Aussee is a place on this line.
Lössl Clock in Bad Aussee
The piece in the Styrian place of Bad Aussee is the only surviving Lössl Clock. It ran by using the power of changes in atmospheric pressure and temperature. Due to too many vibrations evoked by the traffic nearby, the clock works with electrical power now.
The history of such clocks
Using atmospheric pressure and temperature for running clocks is an older idea. Dutch engineer Cornelis Drebbel described a "Perpetuum mobile" clock in 1598. The French clockmaker Pierre de Rivaz developed another model in 1740.
At the Victoria and Albert Museum, you find the Cox's timepiece, created by James Cox in the 1760s. A still working model is the Beverly Clock in Dunedin (NZ), devised by Arthur Beverly in 1864.
Swiss engineer Jean-Léon Reutter developed a table clock using the power of temperature changes in 1928. Today, clock manufacturer Jaeger-LeCoultre produces these clocks with the brand name Atmos.
Sources / More info
Link Biography of Friedrich von Lössl on Wikipedia (DEU)