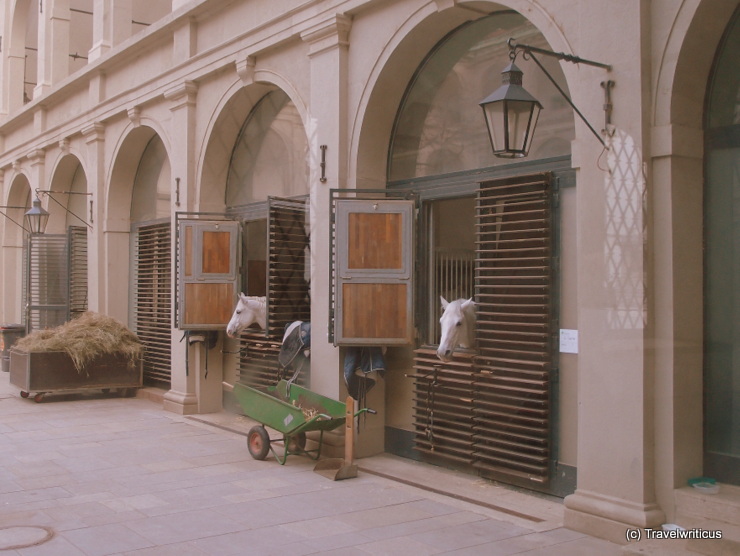 A chance to see the famous Lipizzaner horses of the Spanish Riding School for free is at the Stallburg building. This former residence is placed next to the Winter Riding School. Between the training and the performances, the Stallburg is the home of the white stallions.
It was in 2012 when the horses relaxed not only in their boxes but also in the court of the Stallburg itself. I guess this was just a promotion for the Piber Federal Stud. Several black foals, which wouldn't perform at the Spanish Riding School, made me think so. In the later years, I discovered the Lipizzaner strolling around in the Burggarten several times.
The Stallburg in Vienna
The Stallburg is a Renaissance-like building. It was erected in the years 1558-1565 and is part of the Hofburg Palace. From 1659 to 1776, it was the home of the Stallburg Galleries, the art collection of Archduke Leopold Wilhelm. Later the building became the Imperial Stables.
Today it houses Lipizzaners that are performing at the Winter Riding School*. This venue is just opposite the Stallburg building. So if you have good luck, you sometimes see the stallions crossing the street (Reitschulgasse) on their way to the next performance.
* The Winter Riding School in the Hofburg complex is the actual venue where the horses of the institution Spanish Riding School perform. Over time, the place got known by the name of the institution. So people tend to say the performances are in the Spanish Riding School.
Sources / More info