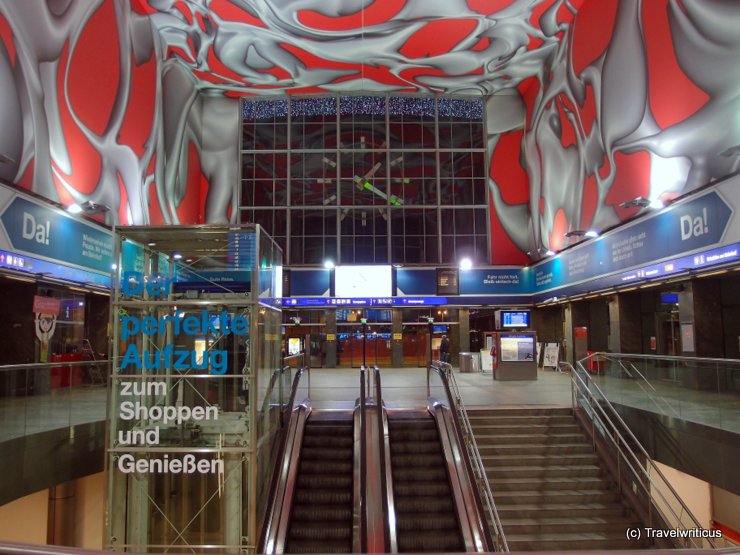 The journey is over. I have reached the entrance hall of my town's railway station. So what did I learn by this special trip in December?
Though more and more trains are offering power outlets I wasn't able to work all the time with just one accumulator in my notebook. Eg in the Swiss trains I ran out of power as there were not enough power outlets or the wrong ones.
So I'll travel with a 2nd accumulator the next time and I'll take care to have an adapter for the Swiss power socket system.
It was fun to travel during the Alps in December as there was much snow in some parts of Austria, Italy and Switzerland. But there was only a limited time of daylight so I wasn't able to make that many photos I wanted to do.  I think I'll make my next big journey in a month with more daylight.
Though it was planned to take some long distance trains I wasn't pleased with the result. Many years ago this used to be much fun but now I prefer to have a walk every two hours. Well, I guess I am getting older.
It was also interesting how important the alternation of fast and slow train for my wellbeing was. Reaching a place within a short period of time is nice but for a fun train journey I'll prefer more slower trains the next time.
In HamburgI had bad luck and lost my big trolley case. After some phone calls with offices of the Deutsche Bahn I got it back the next day. There were a few awkward moments as it wasn't easy to figure out if my luggage has been found or not.
The problem was: I haven't written my address on the label so I had to describe the suitcase by phone. Have you an idea how many dark trolley cases are getting lost? Well, my luggage is labelled with my address now.
So what did you learn by your last train journeys?
I put down these thoughts after ten days of travelling with an InterRail pass through countries around Austria.