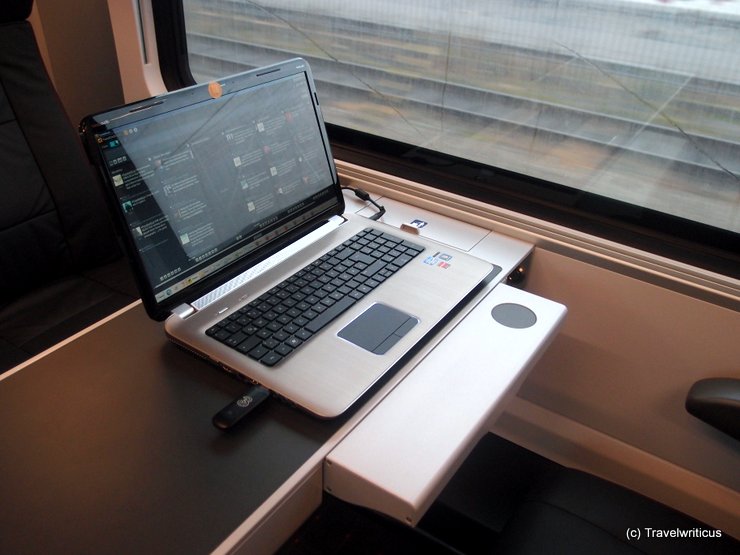 One reason for me to travel by train is the chance to work while travelling. Of course this is just a saying if you don't choose your train wisely.
All my thoughts here are referring to the first class of the trains. If you really love to reach your work goals during a train ride 1st class works better than 2nd class. On the other hand if you would like to learn more about a country and people than you should take the 2nd class, esp local trains and night trains.
What about my experiences so far? There are really big differences in the quality of workspace European trains have to offer. Even if they are labelled 1st class or business class.
For me the best train for working was the German ICE. It offers several large tables, some are even placed in compartments. So I was able to prepare audio and video files without disturbing fellow travellers.
At a Swiss EuroCity from Munich to Zürich I discovered power sockets offered in two different systems the first time. Regarding power sockets there are the same issues like in hotels. You have to be aware that you need adapters in some countries.
As living in Austria I often come across the Business Class in Austrian trains which offer for an extra fee of Euro 15,00 (Dec, 2011) a compartment of only four seats. Unfortunately they don't offer large tables like the German ICE.
At the Austrian Railjet I tested the first time free wi-fi on the train. It worked well. I like the Railjet for the service provided by the staff and the clear height. As I love to watch the landscape I still prefer high windows which are provided by the Railjet but not by the high speed trains of the Pendolino family.
What about commuter trains? Generally they are using simple coaches often without 1st class. An interesting experience was a Regional Express from Hamburg to Lübeck which was equipped with tables and power sockets in 1st class.
To sum up I am a bit disappointed by the tables some trains have offered. They are working fine if you are putting down your thoughts in a netbook or in an iPod. But what about people like me who loves to have a book besides the notebook while writing the next blog post?
I really looking forward to take the new Westbahn (established on Dec 11th, 2011) between Vienna and Salzburg which offers power sockets and large tables. They even offer free wi-fi on a regular base.
What about your experiences doing works on trains? Any trains you are willing to recommend here?
I wrote this blog post while hurrying along a busy ICE from Hamburg to Munich using an InterRail pass 1st class.