Hotel Gemma is a small hotel located at Kleinwalsertal Valley with a fine view from the lounge to the lower part of the valley. Besides that it is situated next to a ski lift so one can start the winter day by skiing down to the lift station and finishing the ski activities just by skiing back to the entrance of the hotel.
It has been refurbished in spring 2013 so the rooms are very stylish and useful designed. I was especially impressed by these rockers at the lobby. I spend hours there writing my posts about what to see in Kleinwalsertal and enjoying the warm light of the nearby artificial fireplace using lighted water vapour for simulating the little flames.
Another nice surprise were these chairs at my room. They are pretty comfortable for reading all the leaflets about events and hiking paths in Kleinwalsertal. Speaking about comfort the hotel also offers a spa area with indoor swimming pool, vapour bath and sauna.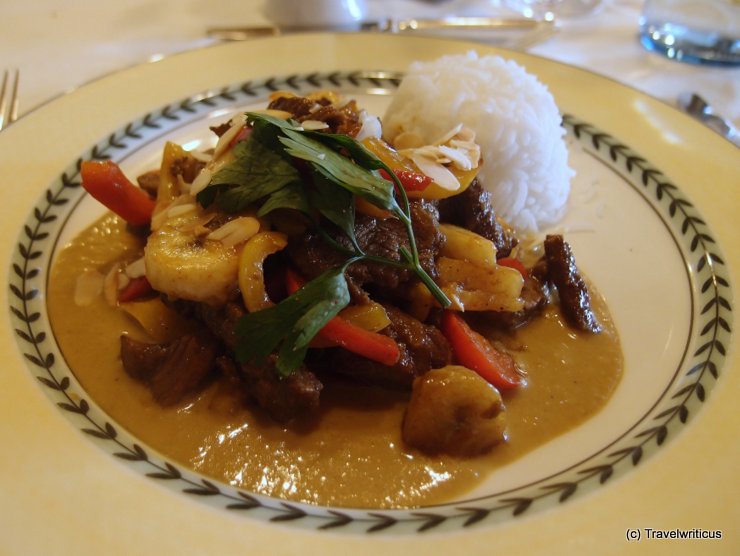 The chef of the hotel offers pretty delicious dishes. For example I had this for dinner: Beef and pork stripes marinated in curry, honey and soy sauce, roasted with pepper stripes, pineapple and banana on basmati rice and fruity curry sauce.
Special feature: The owner of Hotel Gemma is a Lebensfeuer Professional (R) and provides a method for measuring ones heart rate variability (HRV) and gives advice how to get more power by doing the proper activities.
Disclosure: This trip was supported by Hotel Gemma and 50plus Hotels Österreich