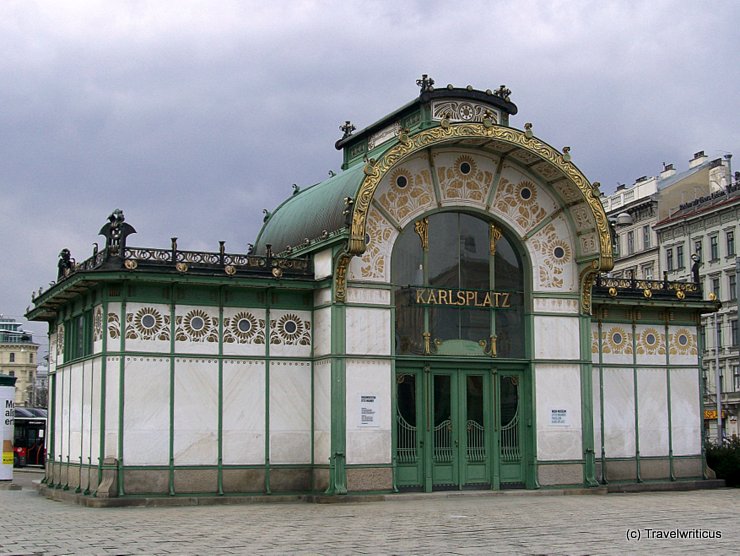 This Art Nouveau pavilion dates back to 1898. Architect Otto Wagner designed it as a station building for the Viennese Metropolitan Railway (Wiener Stadtbahn). Today the Otto Wagner Pavillon houses a museum about this famous urban planner.
Otto Wagner Pavillon on the Karlplatz
Visitors of the Otto Wagner Pavillon enjoy a restored interior with marvellous wall and ceiling decorations in the style of Art Nouveau. The work of the architect and urban planner is honoured by many photos and sketches. That way, the pavilion is a good starting point for learning about Otto Wagner's significant masterworks in Vienna.
The stations of the Wiener Stadtbahn
The old Wiener Stadtbahn has gone, but you can still use its tracks by riding the subway lines U4 and U6. Along the U6, you will find even more station buildings designed by Otto Wagner. There aren't such pretty as the ones at the Karlsplatz, but they still give an impression of the public Art Nouveau lifestyle in the Vienna of 1900.
Otto Wagner Hofpavillon Hietzing
The most beautiful station hall along the Wiener Stadtbahn is probably the Otto Wagner Hofpavillon Hietzing. This building next to Schönbrunn Palace served as Imperial Court Pavilion for the Emperor and his court only. Today the subway U4 runs below the structure without a stop. But no worry, for a small entrance fee you can visit it like a museum: Opening hours.
Other buildings designed by Otto Wagner
Otto Wagner designed far more buildings than the ones mentioned above. Another train-related example is the Otto-Wagner-Bridge. Today passengers of the U6 use this bridge between the station Längenfeldgasse and Gumpendorfer Straße. Curious fact: At this part of the line, the "subway" U6 runs as an elevated railway.
If you don't care about railways or representative buildings, there is a not that known building by Otto Wagner to see. At the Donaukanal, you find a storage building which used to house the movable sluice gates (German: Schütze). The Schützenhaus is more functional than representative, but visitors will recognize the style of Otto Wagner.
Sources / More info